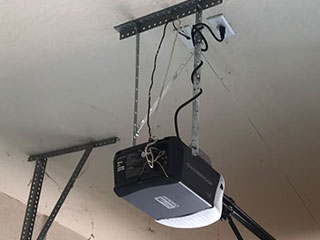 Ensuring Your Opener Is In Good Shape
There's no reason to risk waking up to find your garage door refuses to work when you have places to be! Instead, keep your opener in good shape with our top-quality services. Ignoring signs of a malfunctioning opener like your door reversing when trying to close, shaking, or making a lot of noise can lead to even bigger future problems thanks to the damage spreading. It's far easier and safer in the long run to give us a call and let us take care of things.
Fast & Efficient Opener Installation
If it's time to get a new opener that's quieter or sturdier for your home's needs, let us help by assembling and installing it for you! Having your new opener professionally put together and installed assures that it will work correctly and smoothly for a long time, rather than risk it wearing out due to something being out of place. We're deeply familiar with all of the most popular brands like Chamberlain and Craftsman, so whatever you have in mind, we'll know what to do. No matter if you need help deciding on what opener to get, or have already bought one, we would be happy to lend a hand!
Opener Repairs & Replacements
Make certain that the root of the problem is being fixed rather than just a symptom with our thorough repair services! Our professionals will go over your opener and its related components such as the remote control and wall panel to get to the bottom of what exactly is causing the trouble. Parts, such as the motor, may have rusted or gotten worn out over time from use, but we'll repair or replace them in no time to take care of it. If you instead decide you want an upgrade, or the opener is too old to work well, we can just replace the entire thing.
Take The First Step Today
Get your garage door opener working like new again by contacting Garage Door Repair Issaquah now.
Our team can also take care of:

Commercial Garage Door Replacement

Galvanized Torsion Spring Installation

LiftMaster Garage Door Maintenance

Overhead Door Repair & Installation