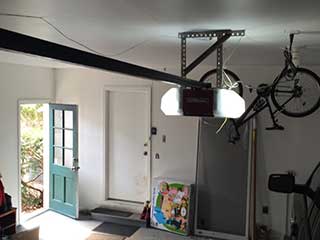 As a professional garage door repair specialist, we know a lot about how to keep these systems working properly. Our team helps customers with all sorts of repairs, from frayed cables and broken springs to malfunctioning openers, and many of these jobs should only be handled by professionals. However, you can keep your door functioning more reliably for longer by taking good care of it. Regular maintenance goes a long way to avoiding a breakdown!
Regularly Clean Moving Parts

The harder your door system has to work, the faster parts will wear out. If the moving parts of your door, such as the hinges and tracks, become clogged with dirt and grease, this can put additional strain on the rest of the system. Every few months you should take a quick look around the moving parts of the door, and clear away any built-up dirt.

Apply Some Lubrication

Another important task is to ensure the door is kept properly lubricated. Key parts include the hinges, drive gear and the rollers. Make sure not to over-apply lubricant; on the rollers, for instance, only apply a little product to the inside of the wheels. Don't get any on the tracks themselves, or your door may end up slipping. It's also important to use the right type of lubricant. White lithium or silicone grease is typically used - not WD40 (which isn't actually a lubricant!)

Check Safety Systems

Your door is equipped with multiple safety systems to help avoid accidents in the home. Test your opener's auto reverse function by placing a block of wood in its path. The door should stop and reverse when it meets the obstacle. You can test the safety sensors in a similar manner, by obstructing them when the door is moving. One vital test is to check the door's balance. You can do this by opening the door halfway then disconnecting the opener - the door shouldn't rise or fall significantly. If it does, your springs need adjusting, and you should schedule an appointment with our team – don't attempt to do this one yourself!